Shark Tank US Season 14 aired on 27 January 2023 represented day-to-day usage product tongs replacement with a better, innovative tong with a Twist! Let us check out the whole Business Study along with sharks' comments and statistics to understand and learn about Business Entrepreneurship.
Anytongs Business Vision
Anytongs Business wants to declutter the kitchen space and create convenient kitchen products involving product designs enhancing efficiency and better food handling.
| | |
| --- | --- |
| Anytongs Shark Tank US Episode | Shark Tank US Season 14 aired on 27 January 2023 |
| Anytongs Founder Name | Tog Samphel |
| Anytongs Business | Kitchen tongs accessory |
| Anytongs Ask In Shark Tank US | $150,000 for 20% equity |
| Anytongs Deal In Shark Tank US | $150,000 for 49% equity |
| Anytongs Shark Tank Investor | Daymond John |
Anytongs Business Founder
Anytongs Business Founder Tog is from Clifton, New Jersey. He is a passionate Product Designer. His mother used this kind of equipment made with plastic for Self Use. he is understanding the need for the product and its usage. 
AnyTongs was launched in 2020. Tog Samphel dropped out of college in 2004 and pursued a job as a Designer at AOL Entertainment for 1 year. He has designed products for multiple companies physically as well as digitally.
About Anytongs Business
AnyTongs is a simple product that solves the problem of multiple Tongs. Samphel quit his job at Loop Company in January 2023 to focus full-time on the business. Anytongs provide a service for shipping their products to customers.
It is going to replace conventional and traditional common kitchen accessories. It is a simple compact tool that eliminates large original tongs that occupy space. These tongs are portable and can be used to attach forks and spoons. Like it's used Anytongs has a tagline – any tongs anytime. 
Anytongs Business Statistics
Tom Samphel founded Anytongs Kitchenware in 2020.
Anytongs Business was started as a Kickstarter campaign, wherein the original goal was $10,000n(Approx. ₹8.1 lakhs). However, they could raise $33,000 (Approx ₹26.73 lakhs ), when they actually ran the Kickstarter campaign.
The selling Price of Single Anytongs is $19.99(Approx ₹1619.19). However, the customer buys the most popular two-pack Anytongs, because of, Selling Price of $24.99, which is approx ₹2,024.19.
Anytongs Business cost is $2, which is approx ₹162.  
2021  sales $7000 approx ₹5.67 lakhs, since, Kickstarter till now.
Anytongs Business Deal
Shark commented that regular tongs are little priced as low as $9.99 approx ₹809.19 and this is almost like any other standard utensil and there are thousands of tongs for sale.
 
Business Pitcher answered and said that he has done a lot of research and he himself sees customers do resonate with this product. However, sharks counter-back saying that there is no validation from Kickstarter sharks and thus cannot confirm acceptance of the customers in the market with the current scale of operation.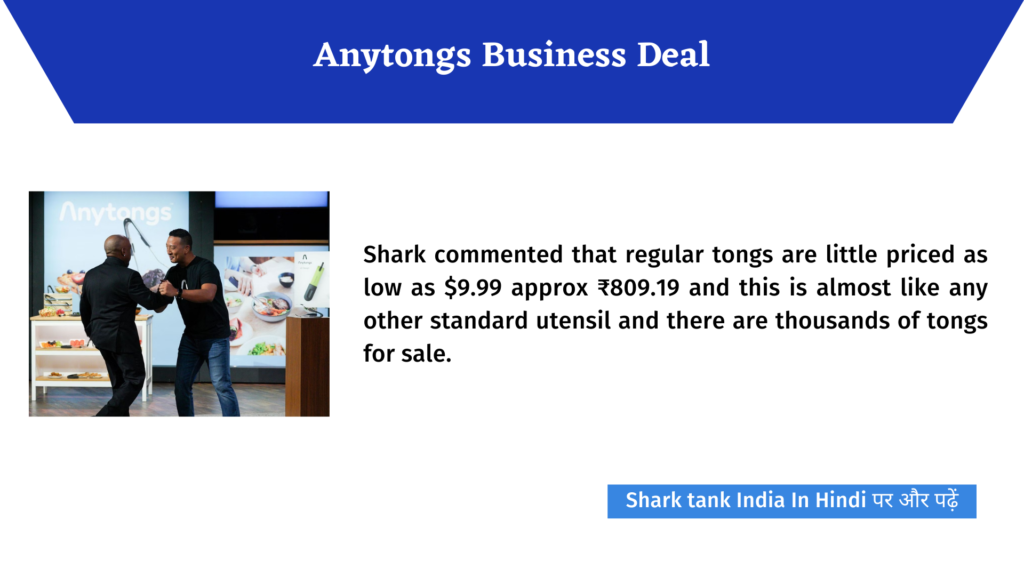 Further, shark questioned whether the scale of the business should have expanded considering it was a good product also he should be able to reinvest to recycle his buys in the business to maintain balance with profitable math in this journey.
Tog mentioned that there was a good return on ads on social media, as his return on ad spend was around a dollar which wasn't much but soon after I got to $3 post that he ran out of money and inventory.
Sharks appreciated Tog for his enthusiasm for Food & Kitchen Space but the product is not appropriate with the Price Point it offers. Sharks mentioned there is something in Business Design that is not getting the market. The Business is only 10 percent out there having only one product doesn't make a great company. The business is not commendable enough to put you working sufficiently for it.
 
Business Pitcher shared his point of view and business reasons that could not accelerate his startup. Covid Situations induced massive problems for the manufacturer end. At that time he spent designing and working on version two, which has better materials and an eco-friendly product. This product will be a much more secure way of attaching utensils. It cost a little over a dollar approx ₹81, but the production run would be much higher.
Shark Daymond Offer: $150,000 for 49% equity
Business Pitcher Tog's Counter Offer- $150,000 for 40% equity
Shark rejected the counter with a justification that there is a lot of work and he wants control of the company. Having other sharks comment that it is a really good offer and their offer would have been worse Business Pitcher considered the only offer and the deal was done at $150,000 for 49% equity.
Conclusion
Shark Tank US Season 14 Episode 13 Anytongs Business has triggered a lot many points to learn and put out points as a case study. The practical invention and conversion of the product were already used by her mother and sharks' comments represented a use case for the product.
However, penetrating the larger market will require distribution and marketing optimization along with cost optimization at large-scale production. Having said that the Kickstarter excess response could be a result of a new category and the market fit is yet to evaluate.  
Shark Tank US Season 14 Episode 13 Anytongs Pro and Con measure risk as well as opportunities encountering sharks discussions. If you had an opportunity, will you invest in this business? Respond and help this entrepreneur with an action plan and steps to resolve the current status of the Business to handle financial and time bars.
Suppose you have any new Business SWOT points. In that case, you may grab the opportunity to put it across for all Business Aspirants to make a note of tips and evolve as entrepreneurs with every Shark Tank Business Review.
Must Read:-
Shark Tank US: The Baby Toon 10 Years Old Entrepreneur
Barbara Corcoran Businesses, Entrepreneur and Investor's Journey